Two new reports to the Financial statements generator (FI only)
- Method of storage. Read more.
- List of used journal types and accounting reports and . Read more.
The useful life of the Asset
You can now input the Assets's total useful life when an asset has been written off in another system previous to Briox.
The Manual opening balance modal now includes a Depreciated Until date so that we can start depreciating in Briox after that date.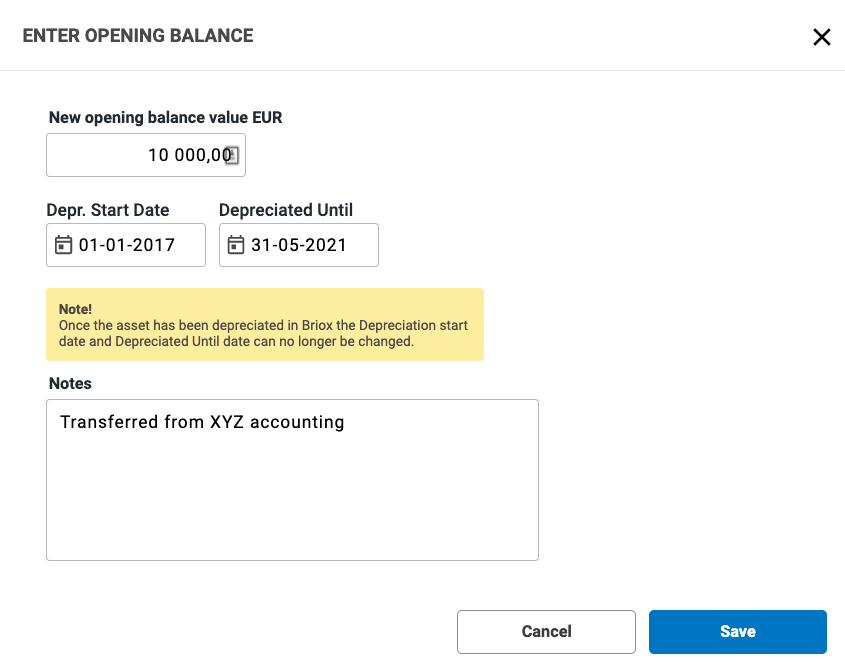 Add customers and suppliers via integration in Lithuania
You now have the possibility to retrieve company information automatically from Rekvizitai.lt to Briox.
Save time, avoid mistakes and get more information about he company into the system!
Possibility to re-activate pop ups
Ever dismissed and turned off a notification without looking at what it says?
You now have the possibility to turn them on again if it was a mistake to turn them off in the first place.
In the right hand menu, under Information dialogs you can turn on notifications again.
Updates to the balance sheet report
When a new financial year is created using the standard Briox COA the liabilities will be displayed as positive values. (FI Only)
In the Official versions of the balance sheet report, the from date has now been unlocked for you to freely select.