Integration to PRH (in Finland), RIK (in Estonia), Lursoft (in Latvia) and Rekvizitai (in Lithuania)
You now have the possibility to retrieve company information automatically from PRH, RIK, Lursoft and Rekvizitai, to Briox, by simply entering the company number.
The functionality is available in both in the Customer and the Supplier registry.
When adding a new customer, or supplier, this function will fetch and automatically fill in all the basic information fields in Briox, based on the officially registered company data in PRH, RIK and Lursoft.
Click on the small cloud icon on top right-hand-side of the page, or click on the selection button next to the Company Number-field:
Next, a pop-up window will appear where you enter the company number for the company you want to add to the registry and click on Retrieve.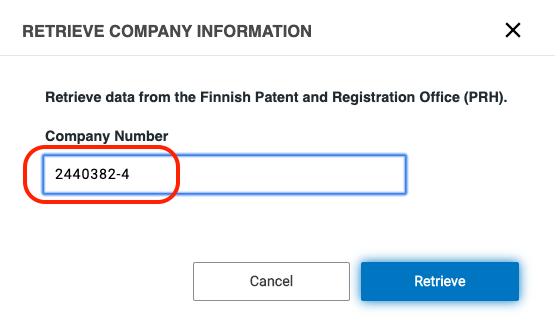 Check that all the information is correct and Save.