Under Registry, you will find the section Chart of Accounts.
You have access to all your accounts via the chart of accounts. Here you can change settings for a specific account, activate and inactivate, copy and add new accounts.
Note: Accounts cannot be deleted, only inactivated.
Use the filter to search all the columns of the COA or select if you want to show one type of account; All Accounts, Active Accounts or Inactive Accounts in the drop-down menu.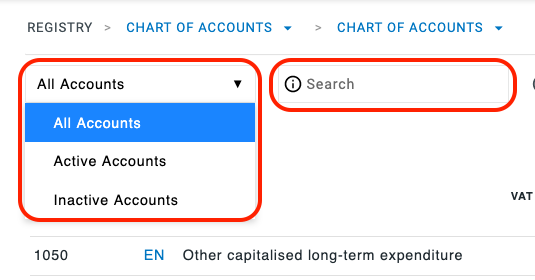 You can also use the quick settings to tailor what columns you want to see in this view by clicking on the gear at the right hand side of the screen


When you click on a specific account in the list, you will view settings that have been made on that account.
The account number can have the following format & combinations:

Digits: 0-9 in combinations with a minimum of 2 and up to 10 digits.


Example: 10 to 1234567891

Alphabets

: The english alphabet

a-z

& capitals

A-Z
Separators: . (fullstop) and - (dash)
All the above can be combined: letters, numbers and separators, for ex: A4000-1
Note:
Account numbers can only start with: 1-9, A-Z or a-z (not 0 or other special characters).

The 0 usually comes after an initial account number.

The Briox Standard COA has accounts with 4 digits
Under the block Chart of Accounts, you can for example change VAT code, set up if a cost centre always needs to be entered and set up what project which will be proposed. See below.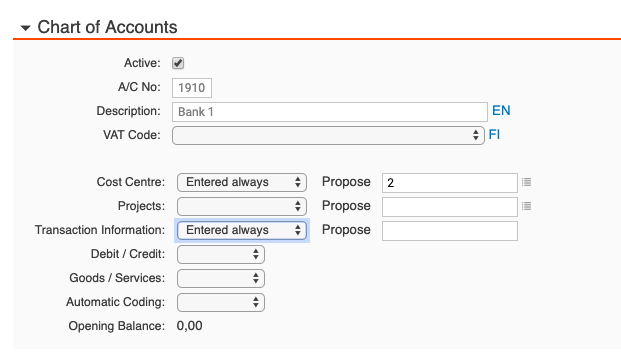 Under the block Account Class, you can view what class the account belongs to. Where the account will be shown in the balance- or profit or loss sheet, are being managed here.
You can also change what account class the account belongs to via the selection button. If the account does not belong to an account class, it does not show in your balance- or profit and loss sheet.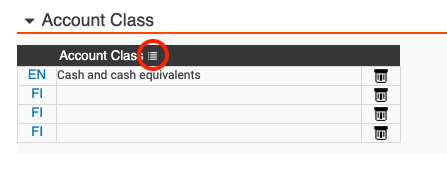 Click here to view how you can print your chart of accounts.