In the Registry, you will find the section Chart of Accounts.
Here you have access to all your accounts and can manage their settings, activate and inactivate them as well as copy and add new accounts.

Note: Accounts cannot be deleted, only inactivated.
The filter and quick settings
Use the filter to search all the columns of the COA or select if you want to show one type of account specifically; All Accounts, Active Accounts or Inactive Accounts in the drop-down menu.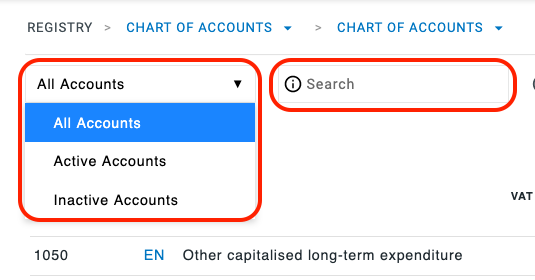 You can also use the quick settings to tailor what columns you want to see in this view by clicking on the gear at the right hand side of the screen

Account settings

When you click on a specific account in the list, you will view settings that have been made on that account.
The account number can have the following format & combinations:

Digits: 0-9 in combinations with a minimum of 2 and up to 10 digits.


Example: 10 to 1234567891

Alphabets

: The english alphabet

a-z

& capitals

A-Z
Separators: . (fullstop) and - (dash)
All the above can be combined: letters, numbers and separators, for ex: A4000-1
Note:
Account numbers can only start with: 1-9, A-Z or a-z (not 0 or other special characters).

The 0 usually comes after an initial account number.

The Briox Standard COA has accounts with 4 digits
Under the block Chart of Accounts, you can manage the following account settings:
The account description. Click on the language code to enter translations of the account name.
The VAT code. The vat code will lead all that is posted on the account to a specific box in the VAT report. Read more.
Set up if a cost centre or project always need to be entered and set up what CC or project should be proposed. See below.
Debit / credit indicates in which column the cursor should land in the accounting grid
You can also make this account into a trigger account by linking it to a journal template.
Accounts can be locked for manual coding: means that it cannot be used to create a journal and there can be no editing done to these accounts in journals.
Any account can be locked for manual coding from within the account or directly from the list.
Under the block Account Class, you can view what class the account belongs to. It is the account class that determines where the account will be shown in the balance sheet - or profit or loss reports.
You can also change what account class the account belongs to via the selection button. If the account does not belong to an account class, it will not appear in your balance sheet - or profit or loss reports.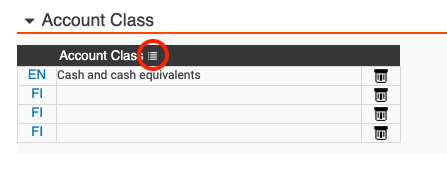 Click here to view the various reports you can print to view your chart of accounts; for example as a P&L report or a simple list.