Once you have submitted your VAT report, or simply finished working in a period you may want to make sure no amendments can be made to the information submitted in case of an audit or any questions concerning your accounts. In Briox you have the possibility to close a period so that no changes can be made to it.
Go to Settings - Invoicing - Close Period or Registry - Chart of Accounts - Close Period. Here you can assign a date until which all accounting data will be locked. Once you click Copy date to Users, the close date will be assigned to the users in your company. Click on Save to lock the specified period.
If someone now attempts to make a change in the closed period, they will be prevented from doing so and a pop-up will notify them that this period has been closed.
Open a closed period
If you want to open up a period that has previously been closed for a user, simply click on the bin at the end of the row.

A message will appear asking you to confirm that you want to open up the period again. Click on OK and the locked until date will disappear from in front of the user who can now make changes to the period again once you have saved your change.

Update a closed period
If you only want to update or change the period that is locked you simply change the date and then click on Copy Date to all Users. See below.

Or you can change the date in the closed until date column. Remember to Save.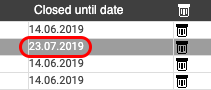 See also: Lock Accounts.