Machine learning: Automatic journal interpretation in Briox

In this second batch we are releasing automatic interpretation in the journal view together with the possibility to match and reconcile drafts and journals in Banking.
The robot can interpret the following fields in the journal view:
The Date

The Journal Description

The accounts used to code the Journal including amounts and VAT

The journal type
As soon as you link an image to a journal, the robot starts trying to interpret the image. You can start coding the journal as the robot works. Please remember that the first attempt at interpretation will not yield any results as each account has their own robot; but on the other hand, as the robot learns, the interpretation results will be retrieved faster and more accurately.
For more information, read our FAQ's
In order to create a better workflow and allow the robot to automatically create journals and drafts from your scanned receipts, we have also enabled the reconciling or drafts and journals in Banking.


Banking Improvements
To accommodate different workflows and allow you increased flexibility when working with your incoming documents and reconciling your bank accounts, we have added the following functionality to Briox banking:
Journal drafts and specific journal series can now be processes under banking.
This way if interpreted expenses are saved as drafts, they can be posted and reconciled only when the account statement is imported. Read more here.


Drafts and Journals can be matched automatically to the account statement.


When the account statement is imported, you can request that transactions be automatically matched to certain types of documents exclusively:

Invoices, both customer and supplier

Journals

Templates



If you choose to not work with automatic matching at import, you have the possibility to request Briox to suggest matches in the Process Transaction view. This can be done for one type of document at a time.

Read more about about automatic matching here.


When matched, documents can also be processed one type at a time. You can for example reconcile customer invoices only. Read about Processing transactions in banking here.

We hope that these improvements will improve your workflows!
New VAT rate in Estonia
The Estonian government has established the rate of VAT on press publications, both on a physical and electronic medium, at 5% instead of 9% as of 1 August 2022. Briox has been updated with this new VAT rate and works according to Estonian law.


E-invoice operator ID
As it is increasingly common that the same (Customer) e-Invoice address is registered on multiple operators, we have added the possibility to add the operator Service ID to the customer registry. This setting will override the Apix autorouting and send the e-Invoice to the operator whose operator service ID you have entered.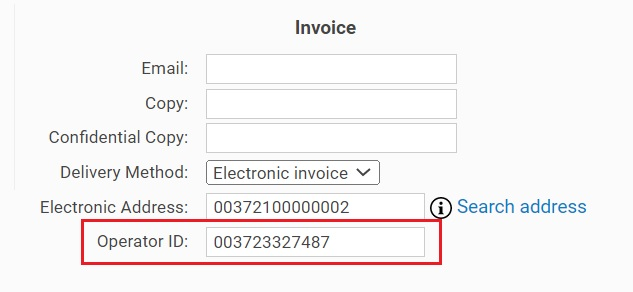 Please note that entering the Operator Service ID is optional in Briox. You do not need to enter this information on your existing customers, and existing e-Invoice settings and registry settings will work as usual.
Read more about activating e-invoicing.
Where: Registry - Customers
Numerous small improvements:
Yu can now move up and down with the arrow keys in the transaction information column of your supplier invoices and journals.


Use arrow keys

to to toggle between buttons in a modal and use

escape to close it.


Accruals

can be added to Journals that have already been posted.

Read more about accruing journals.


The Posting date has been added to the list settings and can now be displayed as an extra column in the customer and supplier invoice lists.Read more about allowing an extra date field for the posting date in your customer and supplier invoices.


Items can now be created by copying other items. An identical copy of the item is created, only the item number is different.


To give you a better overview of your journals, the Journal total is now displayed as its own column in the journal list. It is also part of the list settings and can be hidden if you want.