We have added the possibility to easily add one-time tasks to the assistant. These are unique task you carry out for your customers, for example phone calls or complaints to the tax authorities.
Theses one-time tasks differ from other tasks in that: 
They are unique and do not have a period end, just a due date.

The task does not belong to, or affect any templates.

They are not directly linked to time reporting.

The tasks are displayed with waning triangles that follow the normal color coding. T

he one time task triangle will take the place of the circle in the same color in the task overview. 



Create a one time task
You can create one-time task from any of the views in the assistant by clicking on the blue action button at the top of your screen and selecting Add one time task. See below

Enter the task data in the simplified task modal. See below.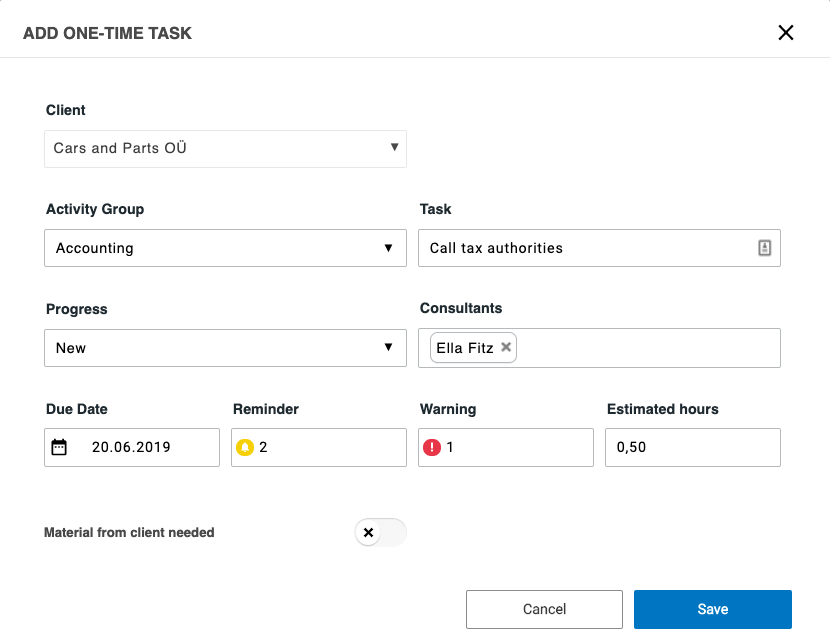 Click on save for the task to appear in your assistant.
Edit One-time tasks
Click on the task name for the Edit task modal to appear.
One time taks are not linked to time but you can enter estimated time & time spent in the assistant to include them in your time follow up and there is also a link to time reporting in the Edit modal.