When you have created a purchase order and saved it, it appears in the purchase order list. In the list you get an overview of the different statuses of your orders thanks to the colour code. At the bottom of the page, you get a total of all your purchase orders in the list. The total is shown in the base currency.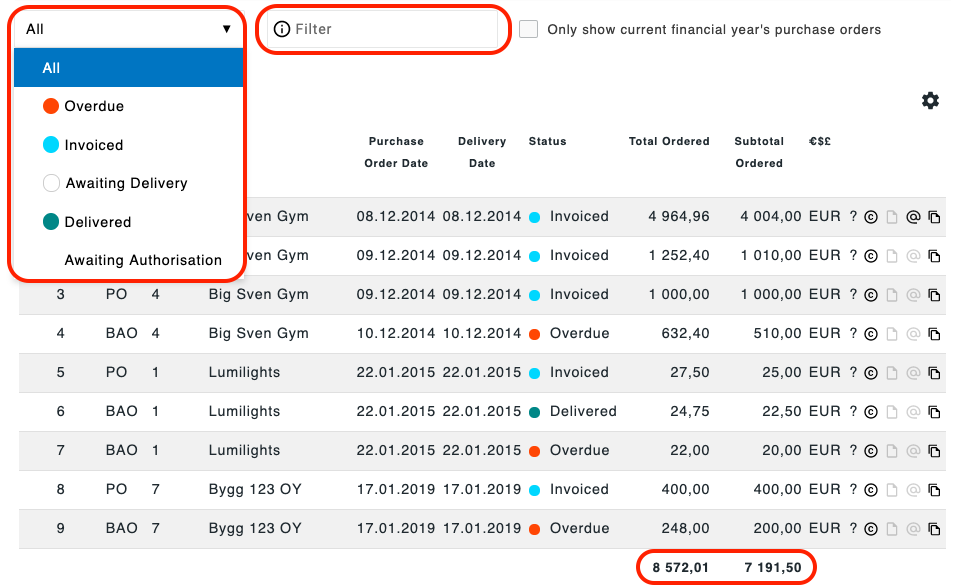 The Purchase orders are also marked as:
PO

for Purchase order
BAO

for Back Order
The filter
With the help of the filter, you can search for specific PO's in various ways:
Type the name of a specific supplier for example in the Filter field.


You can use the drop down menu filter and sort by

status. When the approval functionality is activated, an extra status appears in the filter:

Awaiting Approval.

As the years go by and your list gets longer, you can limit it to the current years PO's only by ticking the box

Only show current financial year's purchase orders.


You can sort the list by clicking on each column header

for example to sort the orders by increasing or decreasing numbers, or date, or whatever the column contains. The different filters can also be combined.
Edit / Copy a Purchase Order
As long as a PO has not been marked as delivered and/or invoiced you can click on it in the list and open it up for editing. After editing, remember to Save.
Purchase orders are often recurring so instead of always having to create new ones, you have the possibility to simply copy a previously created PO.
Go to the

Purchase Order list and select a PO you want to copy. At the end of the row, click on the icon displayed as double sheets of paper.



Click OK in the information window that appears.


A copy of the PO appears on your screen. The only differences are that the new PO has been attributed

a new Purchase Order Number and today's date.
Tracking
Go into the detailed view of a PO. In the toolbar on upper right hand corner there is a magnifying glass icon called Tracking.


Click on the icon and a window appears with links to all the Back Orders as well as Supplier Invoices created from the Purchase Order.
The same is true for linking Back Orders back to the original Purchase Orders they came from as well as the Supplier Invoices created from the back orders.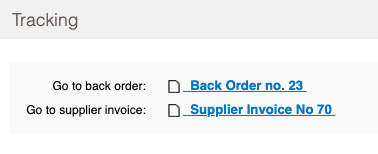 The Activity Log
When you or a colleague edit a PO, the information is saved in the Activity log at the bottom of the PO editing view.
The latest activity is always visible.
You can expand the Activity log to see the detailed history of what has happened to the PO by clicking on the Show all menu. See below.