In the report the selection window, you can choose an "Official" version of the report which presents the report according to Governmental Decree on the information to be presented in the Financial Statements for Small and Micro-businesses. This report has only two columns: The reporting Period and a comparison to the same period last year.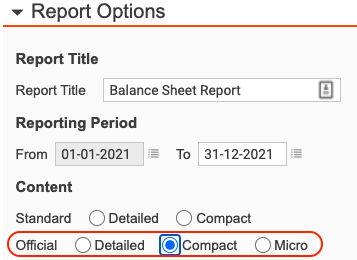 To be able to present the official compact reports according to regulations, we hide certain account classes from the report and present their sums with their parent class.

This is done by simply checking a box at the level of the account class that is to be hidden and does not affect any other versions of the report.

These can be found under Registry - Chart of Accounts - Account Classes.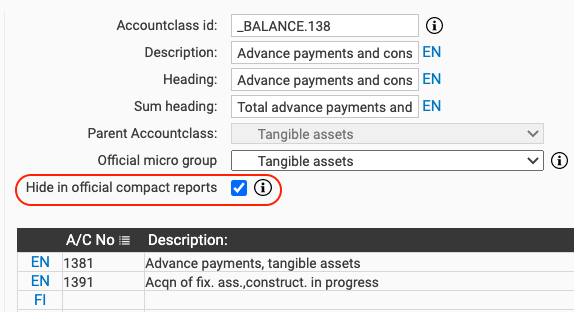 Note: Any box can be checked or unchecked enabling you to further customise you Official compact balance sheet or P&L reports.
The classes that are hidden by default in the compact report are:
BALANCE SHEET
Own real estates

Cash in hand

Bank

Payments in transit and balancing difference
P&L
SALES REVENUE

Purchases, material, supplies and goods

Wages and salaries of employees

Management salaries

Salaries of shareholders and relatives

Paid pensions

Social security payments

Obligatory insurance fees

Other insurance fees of personnel

Accrual during accounting period

Optional social security expenses

Rent

Travel expenses

Entertainment costs

Sales costs

Marketing expenses

Other expenses of machinery and equipment

Expenses of premises

Vehicle costs

Computer and software costs

Research and development

Administration expenses

Other administrative costs

Other business expenses

Balancing difference

Share of results in associated companies