If you are setting up an asset that has already been depreciated in another system, you need to manually enter an opening balance and a depreciated until date for us to calculate the depreciation plan correctly.
Workflow:
When setting up an asset that has already been depreciated in another program before Briox:
In the field Useful Life: Enter the total useful life of the asset.
In the field Depreciation Start Date: you must specify the original/first depreciation start date for the Asset.
Enter all other data relevant to the asset.
Save the Asset.
Go to the Tools menu and select Enter opening balance.
In the field new opening balance value: enter the sum of all previously performed depreciation.
The depreciation start date is entered automatically
Enter the asset's depreciated until date so that Briox can automatically calculate the asset's depreciation plan as from that date.
If you want, you can also write a note.
Click Save.
When the new opening balance value is saved, the depreciation plan and book value of the asset are updated.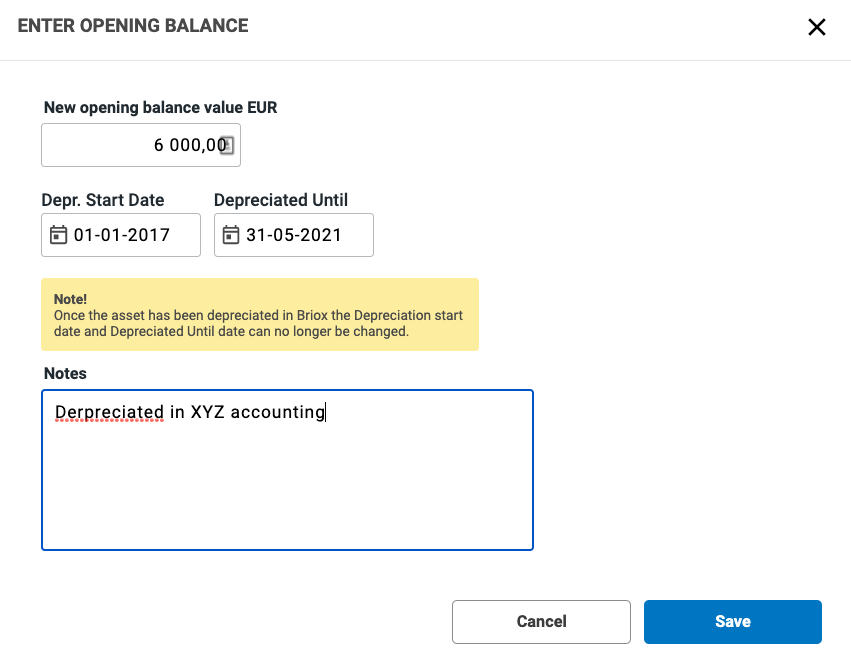 Note! If your assets are fully depreciated in the previous system and you do not need a depreciation plan in the Briox system, but you still want to have a list of depreciated asset cards in your Briox database, we recommend to use Assets import functionality in the Asset Registry. So that all the data and status of the asset cards are displayed in the correct order.