The Notes section is not really a report by itself, but it is an integral part of the Financial Statements report. According to the Finnish accounting law, completing the Notes is required from small- and micro sized companies. Here, a company can report shortly if there are any legally required comments to the report, for example a special status or the size of the business.
The Notes can be accessed directly from under:
Reports - Financial statements - Notes to the Financial statements.


Or from the generator by following the link. See below:


When you click on the link to the report or click on the report name, the list of questions with notes will open in a new.
Step 1: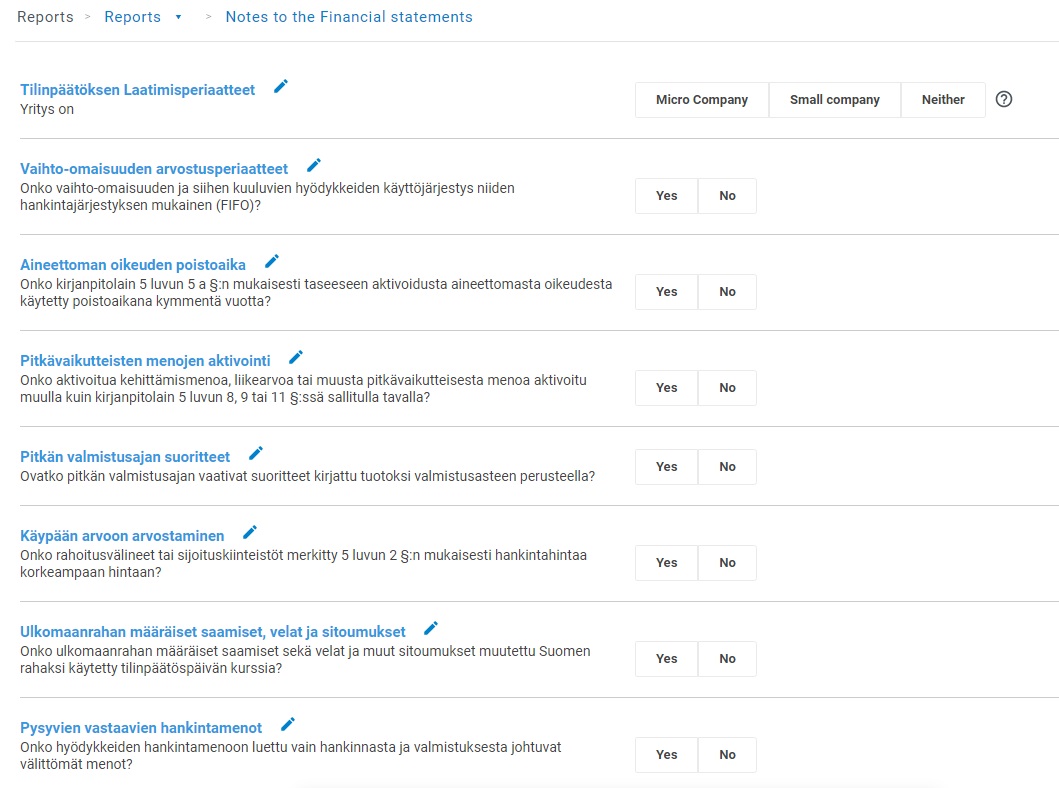 The Notes to the Financial Statemnets page contains 27 Yes/No based questions or No such items exist/Specify statements about the business. These are based on the Finnish accounting law.
Please note that these questions are only available in Finnish and Swedish.

First you have to select the company size: micro or small company. Selecting Neither will remove the notes.
Step 2:
Go through all the questions and answer with them either with Yes/No or No such items exist/Specify. If the note needs a clarification, an empty text field will open where you can enter the necessary notes/specifications:


Step 3:

When you have finalised all the questions, click Save. All your notes have now been saved, and will appear in the Financial statements report, if the Notes are selected.
Please note that only the sections answered with notes are displayed in the the report, so for example a question answered with Yes will not show in the notes section.


Own section:
You are able to add your own sections by clicking the + Add note button in the bottom row.

This will open a completely new note without a header:

These custom notes can be removed from the list by clicking on the X in the top right hand side of the field.

Headers of the notes:
The headers to the notes/questions can be modified by clicking on the pen symbol at the end of the title row. Removing the custom header is done by clicking on the X-symbol:


Saving, re-using and restoring:
After saving, your Notes can be re-used and/or modified next financial year. If you wish to reset the whole form and rewrite everything, you can click on the Restore icon on the left side of the bottom row: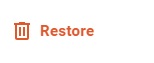 You may also click Print to preview or print out the notes.
When you are done with the Notes, you can return to Reports - Financial statements, the Notes are now available as a part of the report.