A New Simplified Customer Invoice View
In this version, you will find a more user-friendly design for customer invoicing.
If you are an experienced user, you will notice a more modern look that aims to give a more user-friendly environment to work in without excluding any of the functionality you are used to.
For first-time users to our customer invoicing, we will add the option of a simplified view that is easier to understand in order to get the user off to a smooth start. Read more.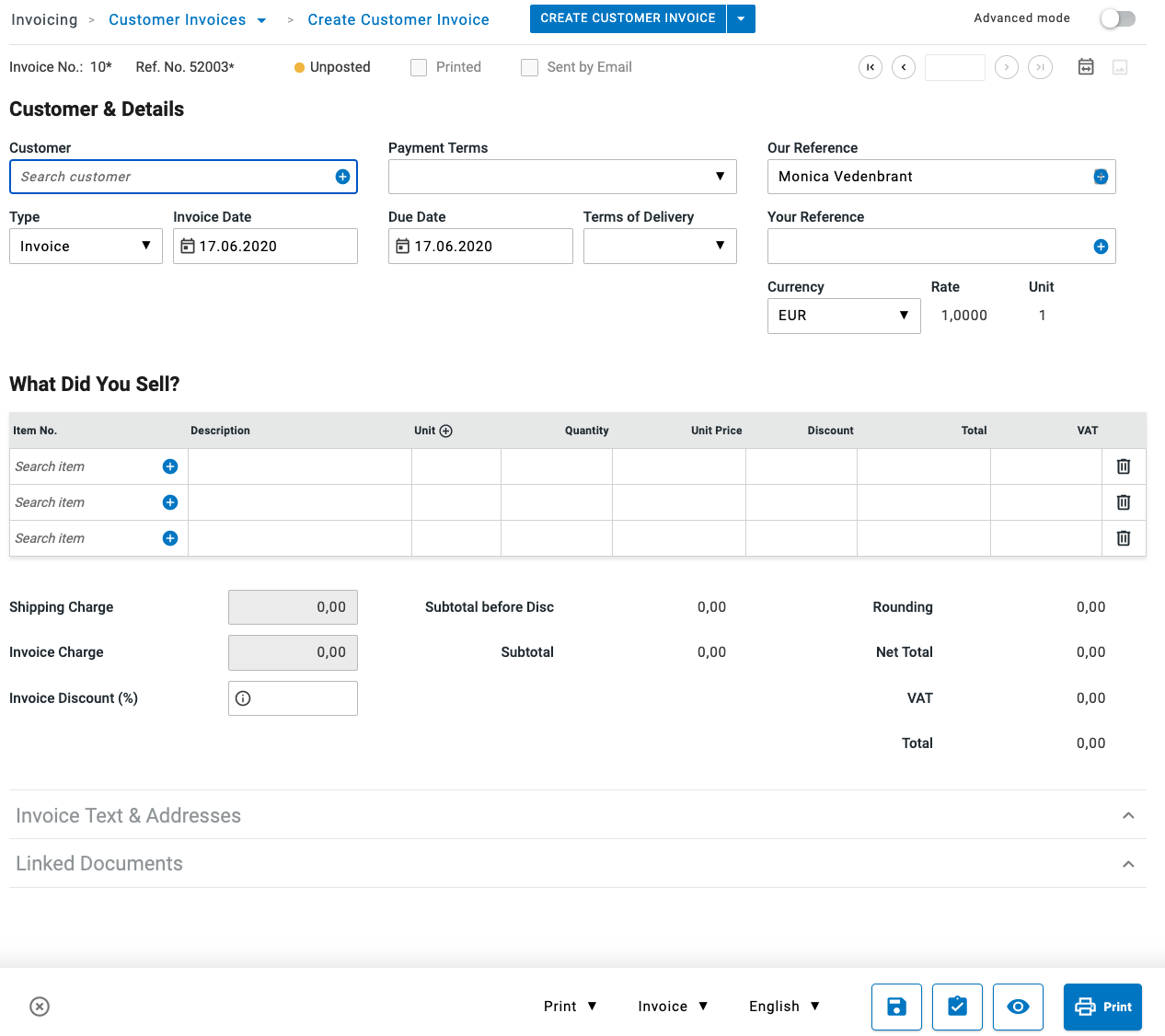 The
Financial Overview Reports
The graphical Financial Overview reports have now been enhanced to include the following reports:
Assets & Liabilities
Debtors & Creditors
Liquidity
Net Profit
Operating Profit
Revenue and Expenses
Turnover
Turnover & Personel (Not in Lithuania)
Where: Reports - Financial Overview
Read more about which account classes and accounts the various reports look at.
Several accounts payable for suppliers
If you want to use several accounts payable to group your suppliers, you can now add an account payable to your supplier in the registry under additional information.

These accounts will then automatically be used when you create a supplier invoice for this supplier.
In addition to this, we have updated the reports listed below so that they look at the additional accounts payable. We have also added the possibility for you to use the account number as a selection criteria in the first two reports.
Continuing our work towards our financial statements report generator we are adding new functionality to our main reports to facilitate your work at year's end. Included in this release:
Drafts can be included in the Trial Balance Report
In addition to including drafts to the Balance Sheet Report and the Profit & Loss, you can now further simulate your accounting by including drafts in the Trial Balance report.
Updates to the Balance Specification Reports

Summarised subledgers are added as a report option in the Balance Specification report
If this option is chosen in the report selection window, the subledgers will be summed up in one row with Total & a To date around the account name as an indicator of the summarising in the report.
The detail of all the open transactions on the account will not be displayed. See below:




Display groups in the Balance Specification report

If you have created groups of unreconciled transactions

under

Reconcile Account. You have the option to display these groups in the Balance specification report. If all transactions are not grouped, the journal description will default in as a description for the row.


Where:
Reports - Reports - Trial Balance report
Reports - Reports - Balance Specification report