A barcode can be used to provide payment transaction information. Briox customers can add barcodes to their customer invoices. Using the drag-and-drop functionality when editing a template, you can easily create printout templates with barcodes for your customer invoices.
The barcodes we are using are according to the standard of the Finance Finland (FFI).
We create our barcodes based on version 4 of the barcode symbol because our invoices are created with the national standard for reference numbers: when the payee's account number has the international IBAN format starting with FI.
A barcode contains the following information which is taken from your invoice and looks similar to the picture below:
Your IBAN number
Invoice number
Invoice Total
The automatically generated reference number of the invoice
The due date of the invoice



Workflow for Creating a Printout Template with a Barcode
Go to Settings - Invoicing - Printout Templates. Create a new template or edit an already existing template of yours.
Select Barcode in the drag-and-drop menu on the right side of your template editor.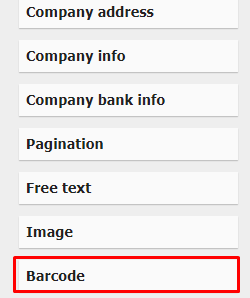 Drag-and-drop the element where you want to have the barcode show up on the invoice, for example in the invoice footer.
Afterwards, save the template.
Good to know:
The barcode can be maximum 105 mm wide and cannot be shorter than 70 mm. We recommend to use the maximum width for the barcode. The length is 10,0-12,7 mm.
An empty space of maximum 5,0 mm is recommended underneath the lines of the barcode.
Your IBAN number has to be entered (including the prefix FI) under Settings - Company Settings - Company Information.