The payment listing is a report that lists the payments that are to be made including all the information necessary for a third party to be able to carry out the payment.
This can be used in the cases when you are working with banks that cannot receive a payment file or are not compatible with Briox for example.

Follow the steps below to work with the Payment Listing:
Create a Payment Method

Select invoices to pay & Create the payment File
Revert invoices that are under payment.
Create a Payment method
To be able to use the Payment Listing you need to set it up as your payment method under Settings - Accounting - Banking & Payments.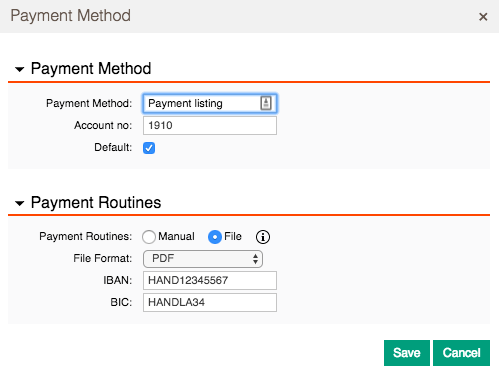 Give the method a name of your choice: here Payment Listing.
Choose the account to link to the method.
Choose whether this method should be default by checking the box.
Under payment routine:
Choose File
Choose the file format: PDF or Excel
IBAN and BIC are not a must but if you have entered them under Company Settings they will appear automatically here.
Save when you are satisfied
Create a payment List
Go to Supplier Invoices and select your unpaid invoices in the filter.
Check the boxes for the supplier invoices you want to include in your payment list. see below.
Note that IBAN & BIC must be registered on the supplier for the invoices to be included in the file.
The option Payment File will appear in the menu in the footer. Click on it.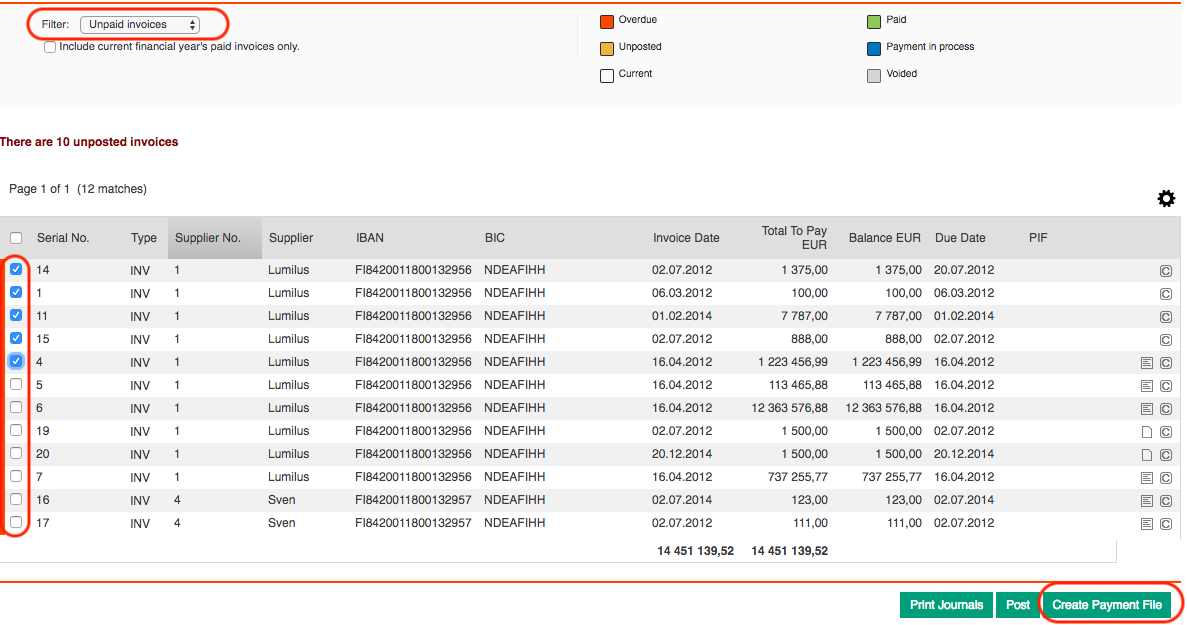 This will take you to the view where you can adjust the options in your payment listing:
Adjust the payment date

Adjust the amount to pay

Check that the correct invoices are included

Choose payment method: in this case payment listing

Click Create payment listing. The option PDF or Excel is according to what you have chosen in your payment method.

The payment Listing is then downloaded to your computer. See below the payment file as an Excel.
The columns included are:
Serial number

Supplier name

Supplier's IBAN

Supplier's BIC

Invoice No

Invoice's Reference number

Payment amount

Currency

Payment date

To be able to create a payment listing you need the user right to: Create payment files.
Revert invoices that are under payment
When invoices are included in a payment listing they automatically get the status payment in processand are marked in Blue in the invoice list.
You can also find these invoices gathered in the tab Payments in Process.
If invoices were not paid for some reason, you have here the possibility to revert them to their unpaid status.
Mark the invoices in the list and click on Revert.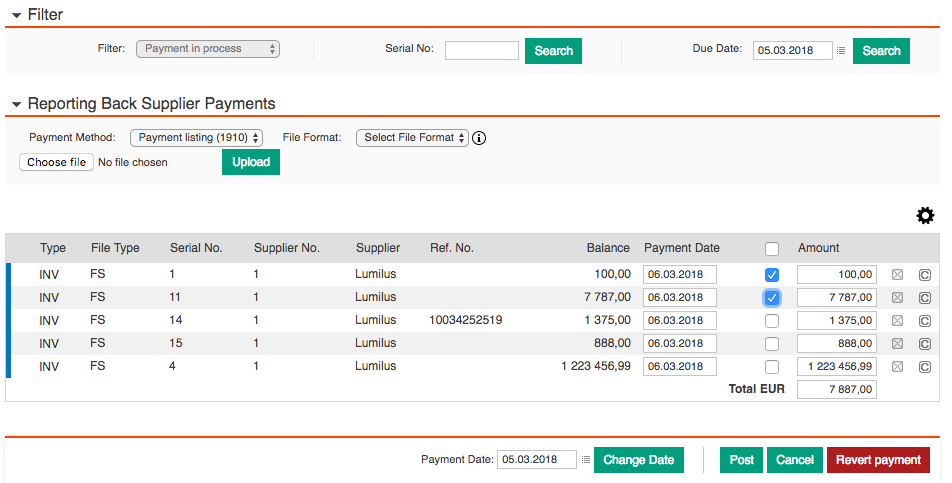 To be able to revert payment files, you need the user right for: Restore Payment files