Under Settings - Accounting/Invoicing - Banking & Payments you can add the payment methods you want to use to carry out your payments in Briox.
You can select any payment method when paying supplier invoices or salaries.
All payment methods are available under Banking.
If you want to make payments outside of Briox you can create a Payment method for manual payments, read more here: Payment list for manual payments.

Note that the bank information you set up under Settings - Company Settings - Company Information, will be displayed on your customer invoices. This should also be the account set up as your bank account under your Registry - Chart of accounts - Default account.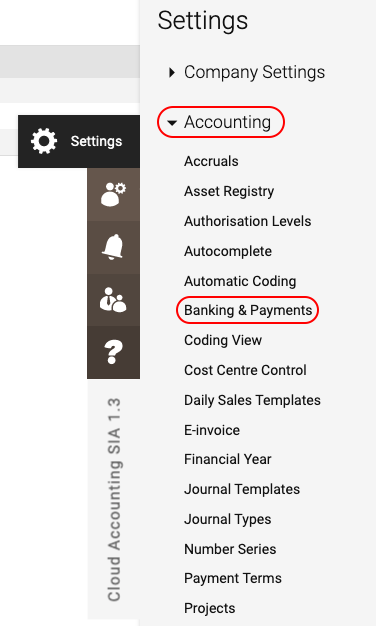 Click on Add Payment Method. A pop up appears where you can create your payment method and payment routines. Note that all these fields are mandatory for you to fill in when registering. See below: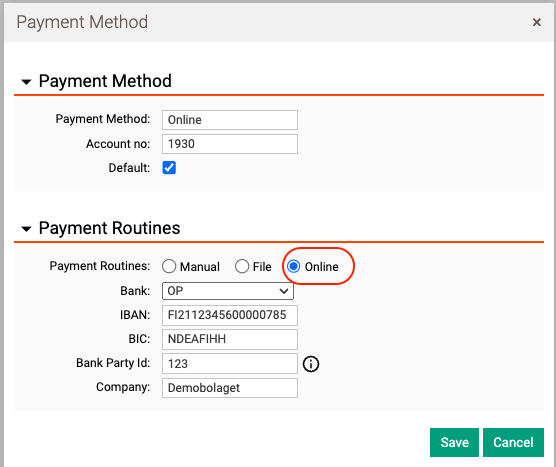 Under Payment Method, select a name, an account number and whether the method should be your Default payment method.
Under Payment Routine you can choose between Manual, File or Online.
Read more here about how you activate online banking.

Choose Online for internet payments. Select your bank in the drop down menu. If you have filled in the information for IBAN and BIC under Settings - General - Company Information, then the information will be prefilled here. For Online and File you also have to enter your Bank Party ID and Company Name.


Below is a description of the various fields in the modal:
Bank: a drop down list contains the banks we support with SEPA format (same for File and Online). If we add more banks, you will find them here.
IBAN: The International Bank Account Number for the specific bank account. It consists of 14 to 34 characters which must be capital letters and numbers.
BIC: The Bank Identifier Code for the specific bank account. A BIC always comprises 8 or 11 characters. The first 6 characters are always capital letters where characters 5 and 6 are a country code that must match the country code in the IBAN. Other characters are letters and numbers.
Bank Party ID: The bank party ID you have at the specific bank (your customer number with your bank).
Company: The company name as registered with the bank in question.
Click on Save and the new Online Payment Method/ Payment Routine will appear in your list.

The new payment method will now be available for you to select when you pay customer or supplier invoices.

Note: If using templates in Banking, accounts that are set up as payment methods will automatically be switched so that the correct payment method is used in the journal created. The software will check what account is being reconciled and switch to the correct account in the transaction created with the help of a template. Read more about Banking with Templates.
Read more about cross-border payments to suppliers without an IBAN.
Read more about Payroll Payments.
Read more about The payment list for Manual payments