Autocomplete is a feature that enables the application to suggest what you should write in the field based on what you are typing and what has been previously entered in the corresponding registers. For example, if you are typing a customer name in a customer invoice, autocomplete will compare with what is available in the customer registry.
When you start typing in a field where autocomplete is enabled, a list of all the options that contains those letters or numbers are displayed for you to choose from. Keep typing if you want to narrow down the options. This speeds up your registration process.
Under Settings - Accounting/Purchase Order/Invoicing/Sales Order - Autocomplete you can see the different fields, ordered by application, for which autocomplete can be activated. See below. Simply uncheck the boxes if you do not want autocomplete for any specific field. Autocomplete is active by default.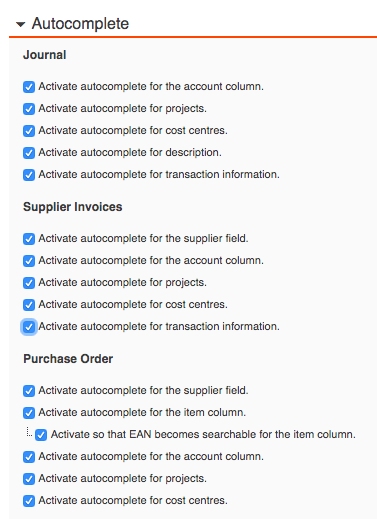 See below how autocomplete works when you fill in a new supplier name in a new supplier invoice.