You need to create a financial year to be able to register accounting transactions in the program:
Go to Settings and then to either Accounting or Invoicing - Financial year or u

se the short-cut on the right hand side of the top bar and

click on Create Financial Year if this is your first financial year, or select Edit Financial Year in the dropdown menu if you are creating a new one.




Below Create New Financial Year, enter the start date of the financial year in the field From and the end date in the field To.

You can also choose a new chart of accounts when creating the financial year.
In the first year you can choose between the existing alternatives or upload your own chart of accounts as .csv-file. Next time when you create a new financial year you can choose whether you want to use the same chart of accounts as in the previous year. This is convenient especially when you have customized your chart of accounts.


The accounting method can also be changed when creating a new financial year in Briox. The chosen accounting method is used for the entire year. You can choose between Performance Method and Cash Method.

Note:
If you select the Cash Method you can only select our default chart of accounts.



When you are done, click on Create New Financial Year to save the chosen settings

and answer

OK

to the warning

.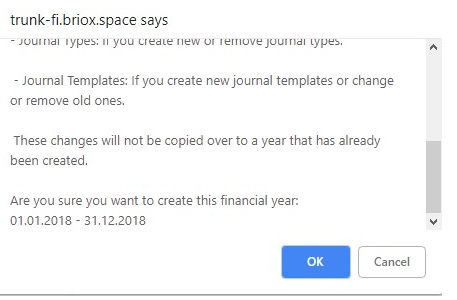 Under Settings - Accounting - Financial year you select as well which year should be displayed as default when you log in to the program. Check the box on the left of the year you want to open automatically at loggin.




In case no year is chosen, the last financial year is opened at loggin.
Changing the length of a financial year
If you want to adjust the length of a financial year, go to Settings - Accounting - Financial Year. Under Existing Financial Years click on the arrow next to the financial year of which you want to adjust the length.


A window pops up where you can fill in the new start and end date of the financial year.
If previous years already exist, you can fill in only a new end date. Click on Save.