Follow up on what has been sent to the Income Registry in real time.

After a payment has been made, Palkkaus.fi waits for 5 days incase of a change, and then sends the earnings report to the income registry.
The earnings payment reports displays every payslip sent and
The employer's separate report is a total monthly report.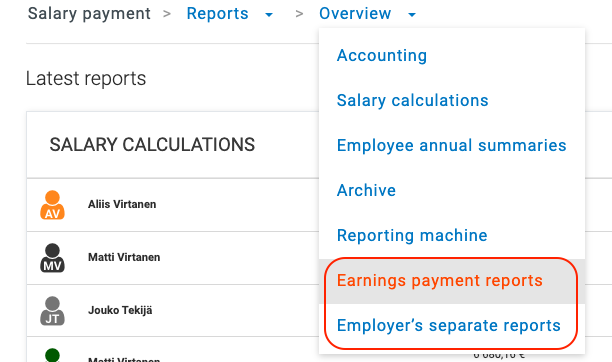 At the moment you can choose a payday to a calculation that is the following bank day after today, or if the net salary to be paid to the employee is €0, you can choose the current day.

The possibility to choose only the next bank day as earliest payday is because the software calculates that on this day, the payment will be for sure in the employees bank account.

If you need to report past salary dates to the income register, please contact the palkkaus.fi customer service: aspa@palkkaus.fi and they can make the correction to the calculation and income register report.

If you need to mark a salary or other payroll payment as paid for it to be reported to the income registry, without actually making the payment though Briox, please use the Payment list as a payment method.
The payment list is a pdf report that lists the payments that are to be made including all the information necessary to be able to carry out the payment. See below.