If a payment is draged and dropped onto an invoice in foreign currency, the payment modal will offer a currency rate option. See below.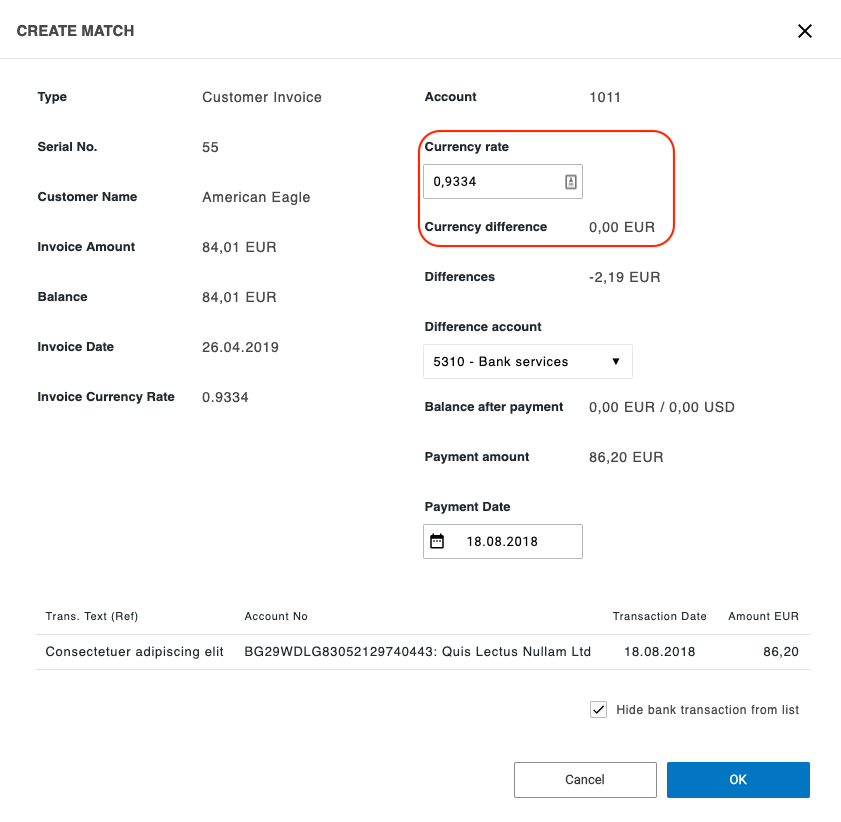 If you have activated the automatic currency update from XE (under registry - Currency), Briox will automatically select the currency according to the payment date.


If you set your currency manually, Briox will fetch the currency rate set in the Registry.



You can also

update the exchange manually to the rate you want to use by clicking on the changing the rate manually in the currency rate field.
Note:
An invoice in foreign currency with several payments linked to it cannot be mass managed as different payment dates will call for different currency rates.
A single Payment with several invoices in currency can be mass managed as we set the currency rate according to payment date.
Currency differences too small to be posted, will be removed and logged under Reports - Activity Log - Currency log. Read more.
When carrying out final payments in currency in banking, the invoice balance may turn out to be 0.00 EUR but not 0.00 in the invoice currency. The problem is that the difference is so small it cannot be posted in Euro but still blocks a payment from being carried out.
For the system to be able to mark the invoice as paid in full, we need to remove this difference.
We log what we have removed to be be able to carry the final payment, this way, in case there are many small differences that build up over time, the customer can with the help of the log, post the difference when it grows larger than 0,01 EUR, maybe yearly, quarterly or monthly.