If an asset is paid in several instalments, or the asset has been created before the supplier invoice is received for example, you have the possibility to link several supplier invoices to an asset.
This can be done in several ways:
Via the Tools menu on the asset:



Select Link supplier invoices in the drop down menu.
A window will appear where you can select one or many invoices to link to your asset.
Use autocomplete to search for your invoice.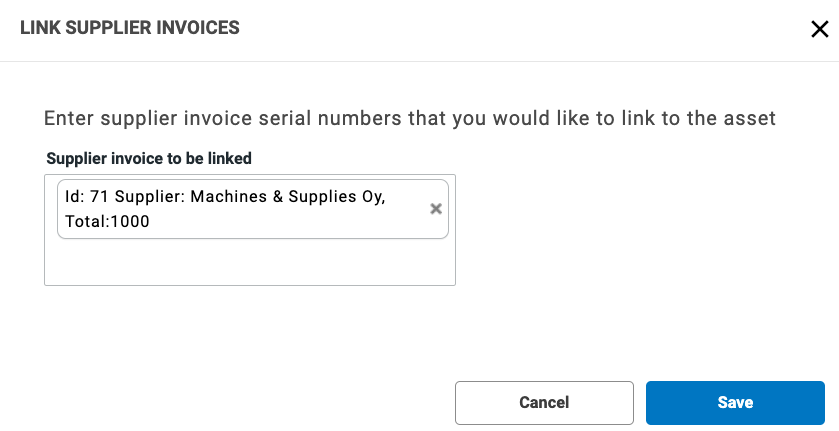 Click on save to link the invoice.
A row is created in the history of the Asset with:
no value on the row as the invoice does not affect the value of the asset

the invoice journal number

In the comments, you find the invoice number

From the supplier invoice list via the Create / Link asset modal
As soon as you post a supplier invoice that uses an asset accounts in debit, the program offers you the possibility to:
or to link the invoice to an existing asset
You control what asset accounts you use with your Asset Types.
Click post on your supplier invoice for a modal to pop up, select : link the invoice to an existing asset.
Select which asset(s) you want to link to the invoice in the modal, enter any comment you wish to include and Save. See below.


Asset history
When an invoice is linked to an Asset, the link is displayed in the Asset history with the invoice number, the possibility to unlink it, which user did the linking and any comment entered.



A link to the invoice is also available via the tracking icon.
In the top right hand corner of the view.

Read how to unlink an invoice from an Asset.
An invoice can also be linked to the asset in the following manners: