The Mass management functionality is built into the customer invoice list under Invoicing – Customer Invoices.
Tick the check boxes at the front of the invoice in the list for the action bar to appear at the bottom of the screen. If there are no ticked boxes, the action bar will not be visible and you will not be able to mass manage the invoices.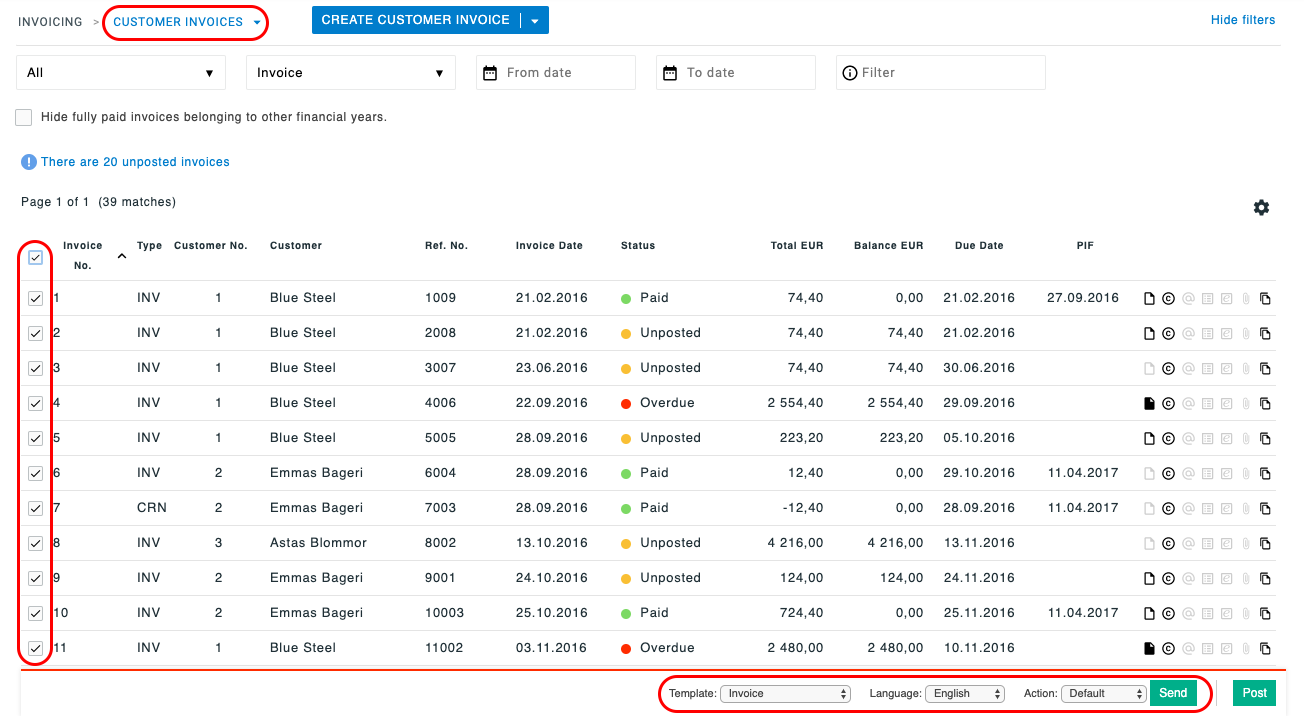 Via mass management you can:
Send invoices to the print service.
Send invoices as e-invoices.
Send invoices via e-mail.
Print invoices.
Post Invoices.
Mass managements jobs are queued
To avoid jobs timing out, all mass management jobs are queued, except for posting which is processed immediately. When selecting a mass management job, the user will receive a notification that the job has been queued. While a job is being processed you can find it under Reports – Queued Jobs.



When a job is ready a notification will inform you. You can then go to Queued jobs to retrieve your printouts. You will now see at what time the job was completed as well as the status of the job (Not retrieved). Click on the cloud to retrieve the PDF with all the printouts. When you have retrieved the printout, the status will change from "Not retrieved" to "Retrieved".
Note:
Printouts can be retrieved several times.
You can also choose to delete the job by clicking on the bin.
Other mass management jobs will not create files to be retrieved and you will simply see that the job was completed at a certain time. This is the case when you send invoices by e-mail, print service, e-invoice.

Invoices with attachments can be mass managed
Invoices being sent as e-invoices or to print service via mass management as well as invoices simply being printed by the user via mass management can now include attachments.