Under Invoicing - Customer Invoices, you can see all your customer invoices. With this list and the information it offers, you have full control over your customer invoices and accounts receivable.
Click on an invoice to open it.

In the Filter tab above the invoice list, you can search for customer invoices by entering numbers or letters. The results of your search will be listed in a drop down menu with a description of the type of result you are getting. See below.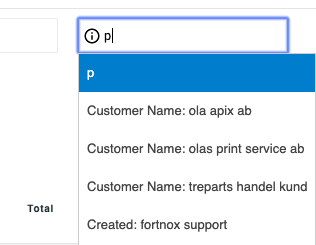 Via the filter, you can choose what invoices to display in the invoice list.

The invoices are colour coded with different colours depending on their status:
Paid invoices

appear in

green.
Overdue invoices

are shown in

red.
Unposted invoices

are displayed in

yellow.
Current invoices,

which are the unpaid and not yet due ones, are white.
Voided invoices

are

grey.
You can also sort the list by clicking on any one of the column headers. You can for example sort your invoices by company name from A to Z by clicking on the Customer column heading. Click again to change the sorting order to Z to A. The same principle applies to the other columns as well.

A period filter expands the filter functionality.
A series of icons provides you information regarding what has been done to the invoices.
In the second column from the right you see when the invoice was created, when any changes were made and by whom. Hold your cursor over the symbol © on the relevant row and an information box will appear. This feature is controlled by user acess rights.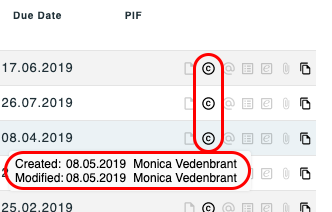 In the same way if you hover over any icon in the list the information will appear. If you, for example have printed the invoice, a small sheet of paper icon is displayed next to the invoice type in the column. If you have printed a Reminder, this icon is black instead.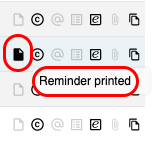 Invoice Types
In the Type column, the different letters tell you what type of invoice you are looking at:
INV

is for Invoice,
CRN

is for Credit Note,
TII

is for Time invoice.
REI

is short for Recurring Invoice, which means that the invoice has been created from a Contract.
INI

represents an Interest Invoice.
CAI

is for Cash Invoice.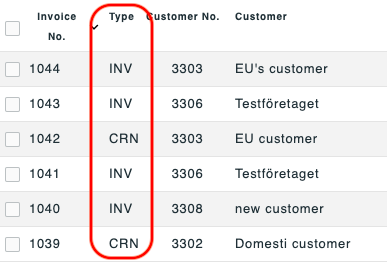 Note: Both Recurring Invoicing and Interest Invoicing are functionalities which must be activated under Settings - Company Settings - Activate Functionality.

If you want to see your Cash Invoices in the list, select the button for Cash Invoice in the filter.

When you have worked several years in Briox you have the possibility to exclude all the paid invoices from previous financial years from you list so you can keep it uncluttered. You do this by ticking the box: Hide fully paid invoices belonging to other financial years.