In Briox you have the possibility to send files and documents to the Archive via email. To be able to do this you need to enable the functionality.
Go to Settings - Archive.


Check the box for

Mail Function

to enable it. If the function has not been enabled, then it is not possible to email documents to the

A

rchive. Do not forget to

Save.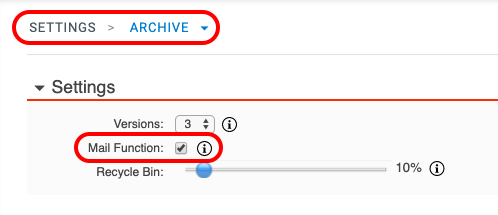 Upload a file via email
In the Folder tree on the left click on the folder you want to mail the file to.


The folder's email address appears in the centre window. See below.



Click on the email address and your mail program should start automatically.
If not you can copy and paste the address into an email; attach the required file and send it. In a couple of minutes your file will be available in the Archive no matter where you are sending it from and you can share it with your colleagues who have access to that file.
Change the email address of your folder
Click on the

Show Folder Properties

button in the toolbar at the bottom of your screen.




A window opens where you have the possibility to change the folder's email address. See below.
The part you can edit is the name of the folder. The number after the full stop is your account number and cannot be edited.


Simply choose a more user-friendly and meaningful name for your folder and Save.


You will now see the new email address of the folder displayed when you click on the folder.