We have created and extra field at the account level so that information can be added to each account in the chart of accounts, for mapping purposes for example?
Activate the field under Settings - Accounting - Coding View.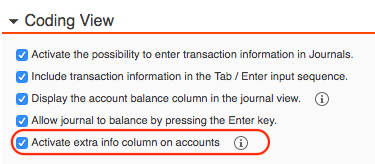 When activated the field is visible:
In the Chart of Accounts at the account level




In the journals




In the journal export 


In the report Chart of accounts - List
Go to: Reports - Reports - Registries & Lists, select the report Chart of Accounts then List in the drop down menu.


In the registry view of the chart of account
Go to  Registry - Chart of Accounts - Chart of Accounts. The column appears beside the account name. Note


The field can be only be edited in the COA view at the account level, and is governed by the user right: Amend Chart of Accounts.