Contents
2. Create an online payment method
3. User settings for online banking
1. Activate online banking
If you wish to activate your account's online banking function, contact us at Briox via email (support@briox.fi). Send us the following information so we are able to activate the function:
Bank (e.g. OP, Nordea)
The name of the account holder
IBAN account number
We will send you a Power of attorney that you can fill in and send to your bank.
2. Create an online payment method
To be able to communicate with your bank online, you need to add Online as payment method under Settings - Accounting - Banking & Payments.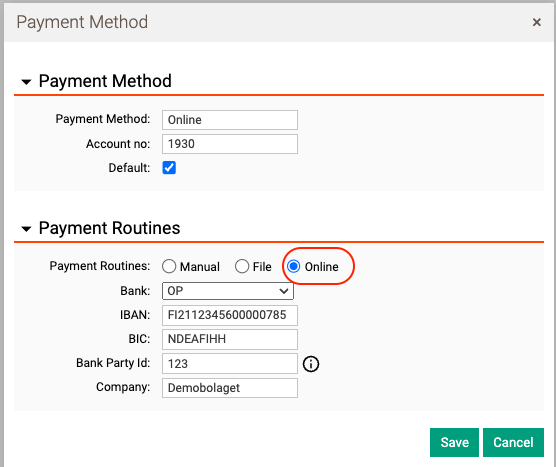 OBS: Make sure to set up only one account per payment method.
Note: You can have several online bank accounts
Read more about Payment Methods.
3. Send a power of attorney to your bank
You can find all the power of attorneys (PoA's) you need in the Power of Attorney section of the help.
Download the POA you need and contact your bank to open your Webb service channel. See example below.
In Briox we work with account statements in the Format CAMT 53


The Incoming reference payments are in the format CAMT 54
You need to specify if you want to work with incoming reference payments to your bank except if you have Danskebank who always includes reference payments in their service.



To be able to pay your employees, from the payroll payment list, make sure your make sure your webb service channel includes payroll payments (file type SALA).

Note: All existing Briox WS channels include payroll payments except the NORDEA webb service channel. Please contact you bank to add payroll payments to your agreement.