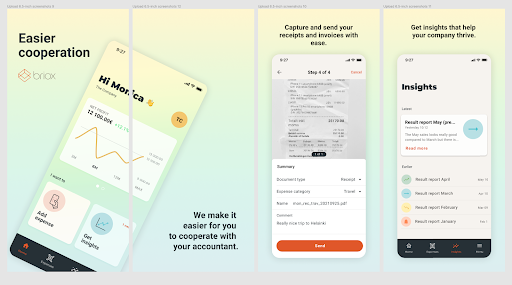 Set up the first steps of cooperation with your customer
Step 1: Set up the user
See: Add users and give them access rights.
Step 2: invite the user to the app
When the user is registered, send an invitation to download and use the app.

Use the QR code to find it easily.



Step 3: Customise the scanner:
The scanner is ready to use but it is worth noting that you can customise it to suit your needs.
Expense types allow you to direct scanned documents to the correct inboxes of the linked documents section of the archive.


Expense categories help the user categorise their receipts & invoices in a meaningful and organised way without any manual input. You can also prompt the user to enter comments on certain expenses.


Read about expense types and categories.
Step 4: Become visible and available


As an accountant you can set up your contact details as well as a personal contact for each client so that they are visible in the help centre and in the app.
Read: Accounting agency and accountant as contacts
Step 5: Enhance the value of reports with your comments & visuals.
The reports that you publish to the dashboard as well as your comments are also available to the user in the app.

Read: Dashboard report Widget
Also available:
A scanner History : Just in case… all documents that are sent in to Briox using the scanner are tracked in the Activity log.
Coming soon in the app:

Send comments to users directly from your supplier invoices

Approve supplier invoices

Time and expense reporting

Invoicing and recurring invoicing

Micro CRM