The financial statements report generator is an add-on module to Accounting, so a user who is to work with the report generator should have access to both Accounting and Financial Statements.
Note: Only a systems administrator can give a user access to a new module.
Via accounting the user gets access to the necessary accounting reports as well as the various functionalities that enhance the reports such as including drafts Drafts in printouts & Grouping transactions in the Balance specification reports.
The generator also gets additional functionality from the Linked Documents section of the Archive. If the account has one linked documents licens it allows users to:
Save the reports in folders that are automatically created in chronological order under linked documents.
Users can link documents & images to the financial statements by uploading documents to the custom sections of the financial statements.
The user rights to Financial Statements is a single access to the report generator,

... and to the reports that belong to the Financial Statements module. These are collected under Reports - Reports - Financial statements in the main reports view which you access from the left hand menu.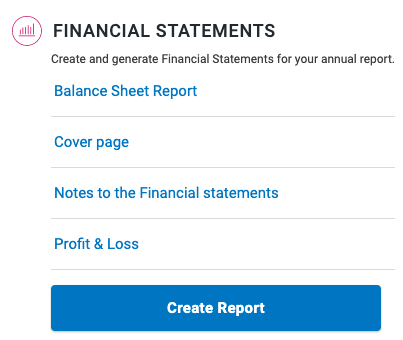 From this main menu you can also access the report generator directly by clicking on Financial statements instead.