Code the difference with enter
To easily wipe out the difference on the last line of your journal, go to Settings - Accounting - Coding View and tick Allow coding of journal difference using the enter key.
Have two reports open at the same time
To be able to compare reports, simply open the first report by clicking on the report name and open the second report by right clicking on the report name and choosing "open link in new tab" or "open link in new window".
In order to further clarify the information in the rows of a journal, use the Transaction Information functionality. You enable it under Settings - Accounting - Coding View, by ticking the box Activate the possibility to enter transaction information in Journals. You can enter text by typing or copying and pasting it into the column Transaction Information.

Keyboard Shortcuts


To go directly down to the first coding row, click

Ctrl+Enter

when you are in the header of a journal or an invoice.
With

space

you can fill in, or clear a check box.
If you have clicked yourself down into a report and would like to go back, use the

backspace

(erase key) on your keyboard.



The Quick Search feature
A good search feature that is available in your browser is the Ctrl+F function (Cmd+F on a Mac).

To search in a view within Briox, click Ctrl+F and you can search the entire page.

In an already posted journal, you can change the date as well as change or add cost centres, projects, and transaction information without having to cross out rows. These changes are logged in the Activity Log under Reports - Activity Log. This way you can always check when, by whom, as well as what changes have been made.

Accruals are a very useful and easy to use functionality, for when you want to create a fixed coding which returns at a regular interval, such as rents or subscriptions in advance. Accruals are not bound by a financial year. They can follow along year after year. You can accrue journals, supplier invoices and customer invoices. We also recommend that you use the Accruals report. In this report, you can see both performed and not yet performed accruals, and can in this way obtain a good reconciliation against the balance account. Enable accruals under Settings - Accounting - Accruals.


View multiple pages of your organisation in Briox at the same time by using tabbed browsing.
There are three main ways to open a link in a new tab:
Hold down

Ctrl + Left Click

on the link
Right-click

on a link and select

Open in a new Tab
Press

Ctrl + T

to open a new tab
In the Profit and Loss report you can compare actual income and expenditure against budgeted figures. Enter a budget first under Registry - Chart of Accounts - Budget.
The report will then offer you the possibility to compare to 'Budget' as an option.

Limit the number of accounts you can choose from
If you do not want too many accounts to be displayed when coding journals or working elsewhere in your accounting, you can simply limit the amount of accounts that appear by inactivating them. Go to Registry- Chart of Accounts. In the Active column on the far right simply uncheck the box in front of the accounts you think you will not be using and do not want to see.
If you want to reactivate one of the accounts at a later date simply tick the active box again. If you cannot see the account please check you have selected the correct filter in the header.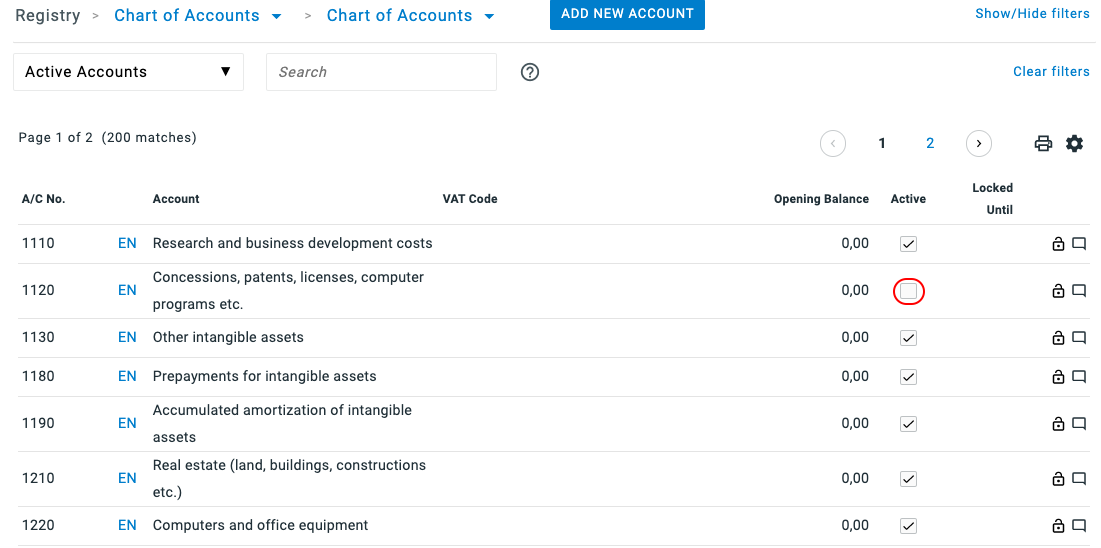 If you often create similar invoices you can simply copy the invoice from one you have previously created by clicking on the copy invoice icon on the far right hand side of the invoice list; all fields will be populated with the information you originally entered apart from the date which will be today's. You can then edit the invoice as necessary and save.

If you send regular invoices to your customers you can use the Recurring Invoicing Feature.
Recurring Invoicing is for those who want to invoice their customers repeatedly at a specific period in time. For example, it may be for rentals or different types of subscriptions. Briox Recurring Invoicing is constructed so that you can create contracts directly or, if you wish, build templates which you can then use as a basis for your contract invoices.
Contract templates can be useful if your contract invoices are relatively similar to each other on many occasions. This will help you save time as items, etc., are already stored in the template. When it is time to invoice, you even determine the date at which the recurring invoices are to be created.