Invoice number with number series
Under Setting - Invoicing - Numbers Series, you now have the possibility to enter invoice numbers with serial numbers for customer invoices. See below: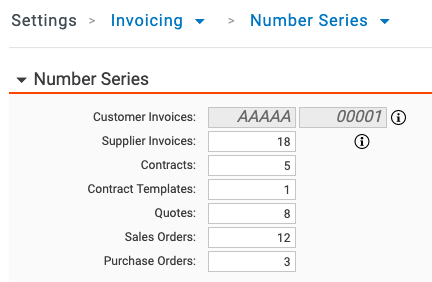 When the company's first financial year is created in Briox, the user must set the serial number and Number series for their customer invoices. Once an invoice has been created the number series and serial number will be locked.
Note: Please contact support if a change needs to be made to either serial number or number series. A change to the number series can only be made to a higher number, never lower
For Customer Invoices:
You can enter up to 5 letters or digits in the serial number, no spaces allowed.


You can enter up to 9 digits in the number series starting with zeroes to define the number of digits the number series will contain, no spaces allowed.
For ex. 00001 to 99999 is a 5 digit number series.
Incremental number series (Latvia only)
In Latvia the user has a choice regarding what type of number series they want to use.
Number series with serial number as described above OR an invoice number consisting of a simple incremental number series.
If you want a simple incremental number series for your customer invoices, simply enter the start number for your number series in the field for the number series ex 101 and leave the field for the serial number empty. In this case your next invoice will get number 101.