Portal users can, in addition to notifications in Briox, receive notifications about their new and unread Portal messages.
The client can activate email notifications under User settings in the Portal. Click on your name in the top right hand corner of the Portal.
Check the box New Portal messages.
A drop-down menu where you can choose how often you want to receive email notifications will appear. See below: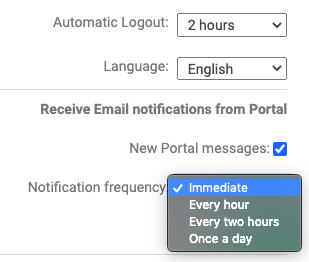 The consultant can activate notifications in the same way, but when they are activated, the functionality is activated for ALL their Portal clients.
If notifications need to be turned off for individual clients, this must be done when the consultant is logged in to the client's Portal.