Before you accrue a customer invoice, you need to make sure that you have a pre-selected journal type for accruals of customer invoices. To check this and to select a journal type, go to Settings - Accounting - Journal Types.
Afterwards, go to the main menu on the left side of your screen and select Invoicing - Customer Invoices and click on Create Customer Invoice. State the customer, the invoice date, and the items that should be invoiced. To apply an accrual to the invoice, click on the marked icon that you can see below. This icon can be found in the upper right corner of your customer invoice.

Clicking on this icon will open an accruals window where you can fill in the information that is needed for your accrual. Here you set your period and which interval you want to use for your accrual. Futhermore, you can change the accrual amount in case it is not the entire invoice amount that should be accrued.
There you can also fill in the accruals account and income account.
When clicking on Create coding data, the account number and amount/formula are filled in.
Click on Preview to see how the accrual would look like.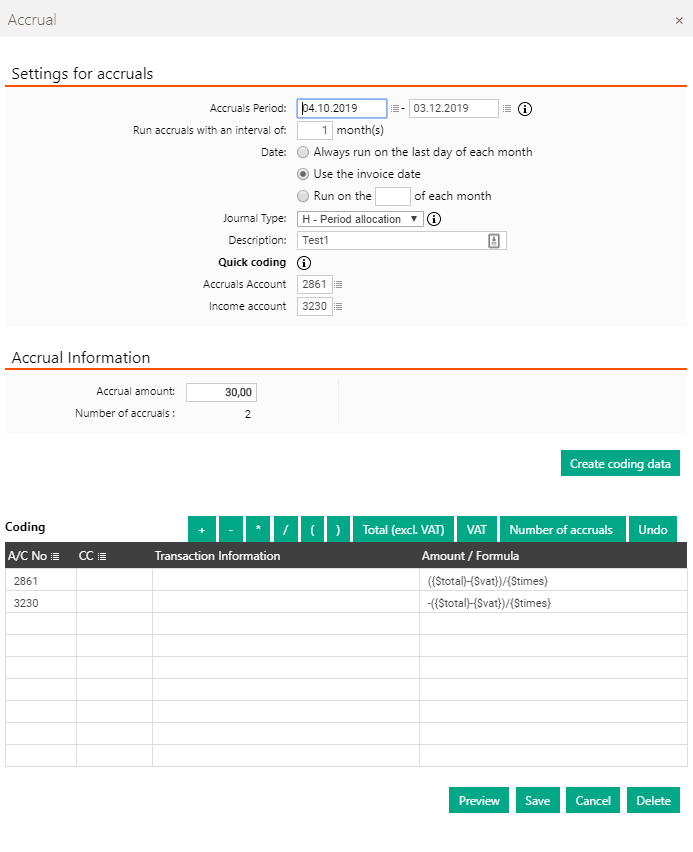 When you are done with the accrual, click Save and afterwards click Post. Now you have created an accrual for your customer invoice. There is even an icon in the customer invoice list that indicates which customer invoices are accrued.

Carrying out Accruals
If you want to carry out your accruals, click on Accouting - Accruals in the main menu. Here you can get an overview of all registered accruals, which includes carried out accruals, not carried out accruals, and deleted accruals. To carry out an accrual check the checkbox on the left of the row and then click the button Execute in the bottom right corner. An accounting journal is created and added to the accruals series in the journal list. You can see clearly which journals have been accrued as the journal type is marked in orange in the list and the date when the accrual is executed is viewed as well.