If you want to accrue a journal in Briox Accounting, you go to Accounting - Journals and then click on the blue button Create Journal. Fill in a journal description and afterwards, click on the accrual icon that you can find in the top right of your screen (see icon below).

In the accrual window that pops up you fill in the details for the current accrual. You can set the period, interval, account, in which journal type the accrual should be posted in and whether the accrual should be named in a special way.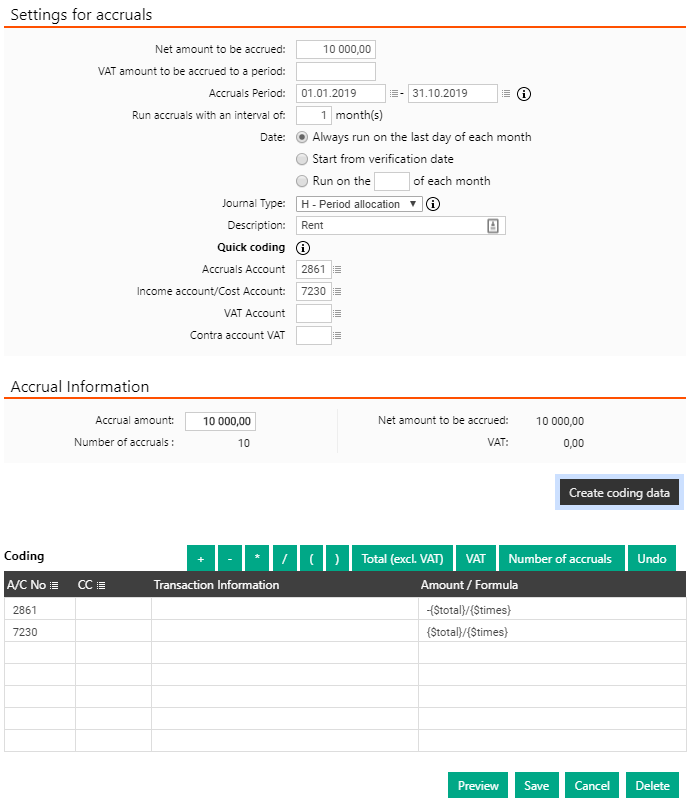 You have to fill in a counter account so that your journal balances. The chosen income account / cost account that you have selected in the accruals window will become the counter account on your journal when you execute the accrual. Click on the button Create coding data when you are done. This will create a row in your journal for the selected accruals account. Click on Preview to check your accrual. Afterwards, click on Save and then on Post.
Carrying out Accruals
If you want to carry out your accruals, click on Accouting - Accruals in the main menu. Here you can get an overview of all registered accruals, which includes carried out accruals, not carried out accruals, and deleted accruals. To carry out an accrual check the checkbox on the left of the row and then click the button Execute in the bottom right corner. An accounting journal is created and added to the accruals series in the journal list. You can see clearly which journals have been accrued as the journal type is marked in orange in the list and the date when the accrual is executed is viewed as well.