Contents
3. User settings for online banking
4. Import your online bank statements
5. Process your online transactions
7. Reporting back supplier payment


General

Online banking offers you a possibility to receive your bank transactions straight into Briox as well as send your payments to your bank online. No more uploading files!
Statements are imported in the Import Bank Statement view.
From there you are transferred to the Process Transaction tab to do just that.
All your banking transactions can now be viewed in the Account statement view.
Below you see a list of banks that can be added to online banking (In Finland):
Nordea
Danske Bank
Ålandsbanken
Aktia
Handelsbanken
OP
Säästöpankki
POP Pankki
Holvi
Swedbank only offers payment files
SEB - only files



1. Activate online banking
If you wish to activate your account's online banking function, contact us at Briox via email (support@briox.fi). Send us the following information so we are able to activate the function:
Bank (e.g. OP, Nordea)
The name of the account holder
IBAN account number
We will send you a Power of attorney that you can fill in and send to your bank.
2. Activate online payments
When online banking is confirmed, you can add Online as payment method under Settings - Accounting - Banking & Payments.
Please note:
Make sure to use only one account per payment method!


To be able to pay your employees, from the salary payment list, make sure your make sure your webb service channel includes payroll payments (file type SALA).

All existing Briox WS channels include salary payments except the NORDEA webb service channel. Please contact you bank to add salary payments to your agreement.
3. User settings for online banking
You must be a System Administrator or an Application Administrator for Accounting to be able to make changes to the payment method (Online, File or Manual) used for a specific account. So in other words only a System Administrator or the Application Admin. for Accounting can activate online banking.
Under Admin - Users - (choose a user) you can specify user settings for online banking by ticking Banking (see picture below).
The user will be able to:
import bank statements
see and work with the online bank statements under Process Transaction
have access to online bank statements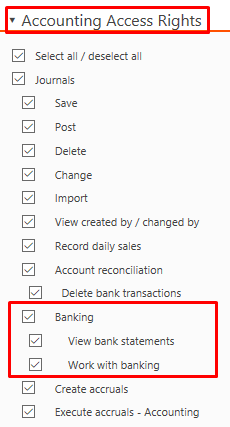 4. Import your online bank statements
Go to Accounting - Banking - Import Bank Statement. Choose the account you have registered as your online account and click on Import File.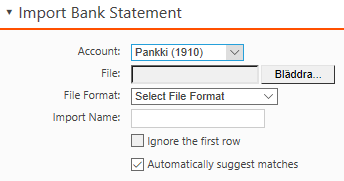 As the file is imported you are transferred over to the next tab Process Transactions where your online transactions are displayed.
Please note: Other accounts, such as your tax account for example, can be imported and matched under banking too. These are accounts that are not your bank accounts / payment method.


5. Process your online transactions
All you imported transaction are displayed under the process transactions tab (Accounting - Banking - Process Transactions).
Read more about how to process your bank transaction:
Create payment journals when you match your customer and supplier invoices
Create journals directly from your bank transactions
Please note: It may be a good idea to choose one method only with which to work with your supplier invoices.
If you process them under Reconcile Supplier Invoices (under Purchases - Payments in Process), please remember to delete the payments to suppliers that are imported when you import your bank statement. These appear in the left hand column in the Process Transactions view. You do this by clicking on the X that appears when you hover over the top right hand corner of the transaction. The payment cannot be reconciled with the invoice in this view as the invoice has already been marked as paid and is no longer available for reconciliation in the right hand column. This will keep your list of incoming transactions uncluttered. See picture below.
The other option is to carry out all reconciliations in the banking view Process Transactions. The supplier invoices will then automatically be removed from the Reconcile Supplier Invoice view.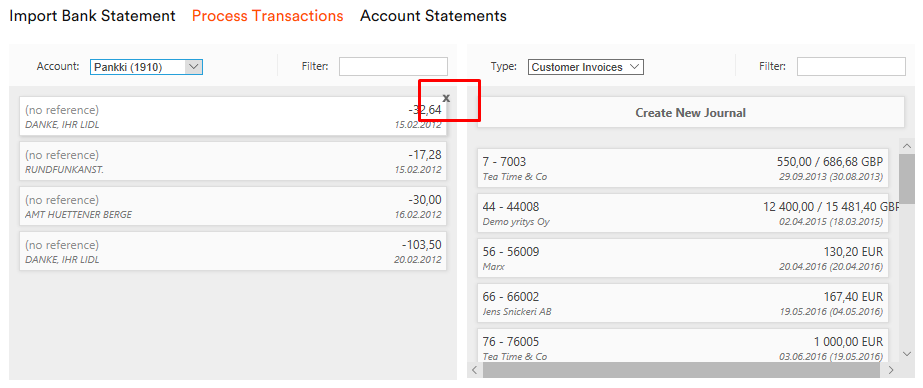 6. Send online payments
Your online payment method is also used when you want to send online payments to your bank. Go to Supplier invoice - Supplier Invoices and select the invoices you want to send as online payment by checking the boxes at the head of the rows. Click on Send online payment. This will send the file containing your payment straight to the bank.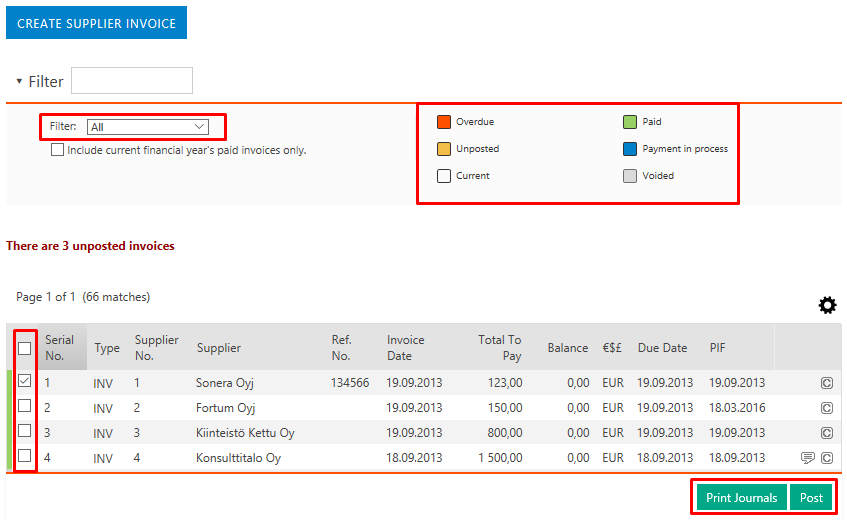 The payments will now be marked in blue as Payments in Process in the list.
Please note: The Payments in process tab is only visible if you have online banking or you have chosen File as a payment method.


7. Reporting back supplier payment
You can upload a file from the bank or get online feedback depending on the payment method you use. Click on Import to get feedback from your bank. See below.





Please note: Depending on what bank you are linked to the feedback may take slightly different forms especially when online. If you are using online banking we recommend you use the Banking functionality, and wait until you are able to import a bank statement to reconcile your supplier payments.

If there is a problem with the payment:


An error message informs you of this, and your payments are automatically reverted to the Supplier invoice list.

Some banks like Ålandsbanken only send error messages and no specific positive feedback as to which invoices have been paid. You can manually check the invoices as paid here or go to Banking and import a statement.
Positive feedback from your bank:
After clicking on Upload, a message clearly informs you which invoice has been paid, the invoice is checked and the payment date has been updated.

Again, please keep in mind that the feedback may be different from bank to bank. For example, some may ignore updating the payment date.
Please note: Remember that if you reconcile supplier payments in this view, the supplier payments you import with your bank statements should be deleted from the left column in the Process transaction tab under Banking as they have already been reconciled there.


8. Restore payment files
Under Payments in process you can revert payments if something has gone wrong. Check the invoice you want to revert for the action bar to appear at the bottom of your screen.





Click on the Revert payment button. This will revert the invoices you have checked. A notification will confirm the revert and you will find your supplier invoice(s) in the Supplier Invoice list again.

9. Account statements view
Under Accounting - Banking - Account statements, you can view all your online banking transactions as well as those imported via file.





Use the filter to select what you want to see:
You can select which bank account to view (if you have access to more than one online bank account statement for example).
In the date field select a from- and to date. The default setting for the field is 30 days back until today's date.
The transaction type field enables you to filter by Incoming, Outgoing or you can choose to view All.
Click on Search for your transactions to appear.